Chrysalis Community Drug Project is a Harm Reduction Service
COVID-19 Harm Reduction Information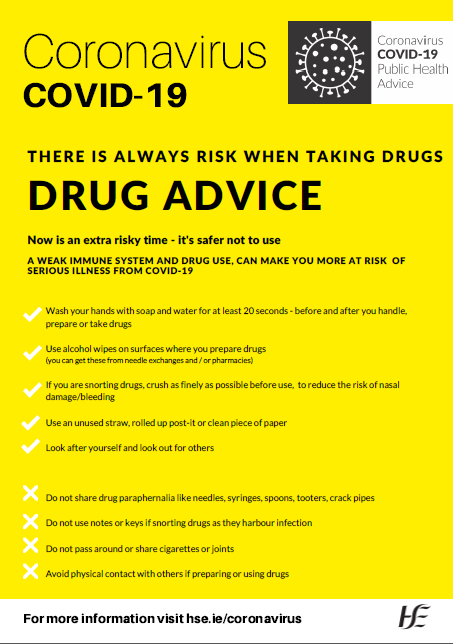 COVID-19 Health Information
Symptoms of coronavirus
It can take up to 14 days for symptoms of coronavirus to appear.
Look out for one, some or all of the main symptoms:
a cough – this can be any kind of cough, not just dry
shortness of breath
breathing difficulties
Other symptoms are fatigue, headaches, sore throat, aches and pains.
If you develop symptoms you will need to self-isolate and phone your GP. Do not go to a GP surgery, pharmacy or hospital. The GP will assess you over the phone. If they think you need to be tested for coronavirus, they will arrange a test.
Close contact
This is only a guide but close contact can mean:
spending more than 15 minutes face-to-face contact within 2 metres of an infected person
living in the same house or shared accommodation as an infected person
If you have been in close contact with a confirmed case in the last 14 days and you do not have symptoms, you need to restrict your movements. You only need to phone your GP if you have symptoms of coronavirus. Do not go to a GP surgery, pharmacy or hospital.
Hygiene Information
Our Vision
Chrysalis believes that everyone living with problem substance use should be empowered to fulfill their full potential & have access to the same opportunities & rights as others.
Our Mission
Our mission is to deliver a safe, compassionate & quality service to individuals & families living with problem substance use in our local community. We do this to reduce harm & empower people to live healthier & more fulfilled lives.