Chrysalis Community Drug Project is a Harm Reduction Service
COVID-19 Service Update
TO ADHERE TO HSE INSTRUCTIONS WE HAVE TO CANCEL ALL FACE TO FACE APPOINTMENTS.
WE CAN TALK TO YOU OVER THE PHONE.
CALL US ON 01 8823362 OR CONTACT YOUR WORKER ON THEIR WORK MOBILE.
SORRY FOR ANY INCONVENIENCE,
CHRYSALIS TEAM
CH09 COVID-19 SUPPORT TEAM
Ana Liffey Drug Project and Chrysalis Community Drug Project have worked together with the support of CH09 to form the CH09 Community Based COVID-19 Support Team.
Together we aim to support vulnerable social inclusion clients in the North Inner City who are:
Symptomatic of COVID 19 are refusing testing
Awaiting testing/test results and need to isolate
Self-isolating at home
Self-isolating in a state provided unit
Being advised to cocoon and require supports to do so
Referrals for this team will be coordinated through Dr. O'Carroll's team based in Grange Gorman and by CH09 Social Inclusion team.
The team will operate 7 days per week from 9am to 5pm, with flexibility in hours due to the nature of the work and needs.
Ana Liffey and Chrysalis will take lead on specific tasks and will coordinate with each other to ensure smooth service provision:
Pre-Isolation & harm reduction team (led by Ana Liffey) will focus on –
Helping service user get to COVID19 test if GP/ medic recommends
Transport to self-isolation unit
Drug and alcohol risk assessment before entering unit or self-isolation in home
Overdose prevention plan with service users
Short term addiction/harm reduction support i.e. naloxone training
Needle and syringe provision
Self-isolation/Cocooning Support team (led by Chrysalis CDP) will focus on –
Develop self-isolation care plan for referred service users
Coordinate support services to ensure sustainability in collaboration with management of isolation units
Access to and delivery of COVID-19 safety provisions e.g. NSP / Food / Naloxone / Condoms / Phone / Top-Up
Psycho-social support over the phone and within social distancing regulations
Post-isolation and reintegration plan
Key contacts:
Ana Liffey: Dawn Russell 0857525704 [email protected]
Chrysalis: Passerose Mantoy 0876360642 [email protected]
Chrysalis: Ross McNulty 0876259943 [email protected]
COVID-19 Harm Reduction Information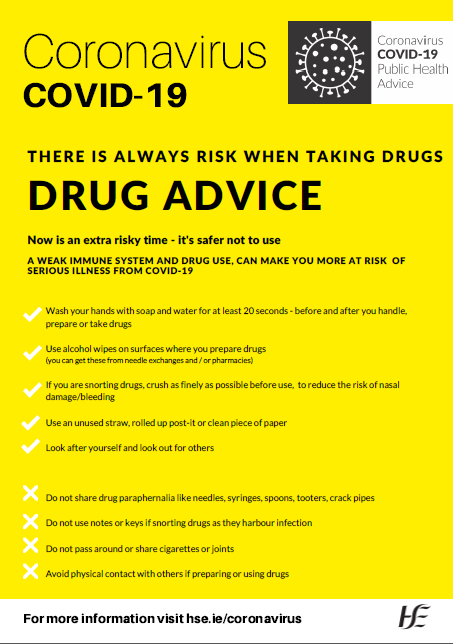 COVID-19 Health Information
Symptoms of coronavirus
It can take up to 14 days for symptoms of coronavirus to appear.
Look out for one, some or all of the main symptoms:
a cough – this can be any kind of cough, not just dry
shortness of breath
breathing difficulties
Other symptoms are fatigue, headaches, sore throat, aches and pains.
If you develop symptoms you will need to self-isolate and phone your GP. Do not go to a GP surgery, pharmacy or hospital. The GP will assess you over the phone. If they think you need to be tested for coronavirus, they will arrange a test.
Close contact
This is only a guide but close contact can mean:
spending more than 15 minutes face-to-face contact within 2 metres of an infected person
living in the same house or shared accommodation as an infected person
If you have been in close contact with a confirmed case in the last 14 days and you do not have symptoms, you need to restrict your movements. You only need to phone your GP if you have symptoms of coronavirus. Do not go to a GP surgery, pharmacy or hospital.
Hygiene Information
Our Vision
Chrysalis believes that everyone living with problem substance use should be empowered to fulfill their full potential & have access to the same opportunities & rights as others.
Our Mission
Our mission is to deliver a safe, compassionate & quality service to individuals & families living with problem substance use in our local community. We do this to reduce harm & empower people to live healthier & more fulfilled lives.